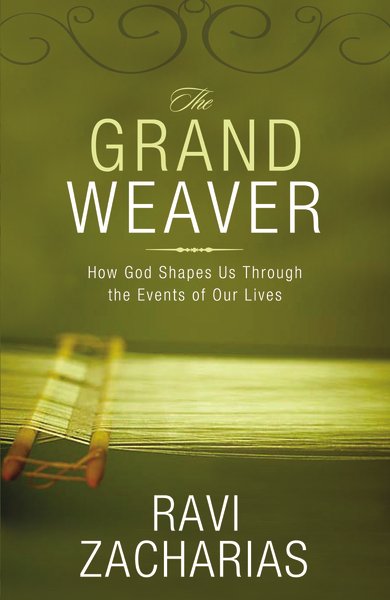 Dr. Ravi Zacharias' ministry is new to myself and my family. We are now reading his Grand Weaver. This man's voice and reasoning and writing are superb.
The Grand Weaver begins with a question that makes my heart leap just thinking about it. "Would anyone deny that they would really like to see some periodic 'visitation' from God?....And who among us would not like to know His plan?"
Ravi carefully examines the evidence and outlines his words with Scripture and where exactly things are substantiated in the Bible.
God wants us to succeed but along the way in this world there will be failure. There is a plan, there is a Weaver. This book wants us to search for the Weaver with all our hearts, for this life is not of our own doing. Think of your own birth, certainly not a date and time of your own choosing.
Dr. Zacharias is a man whose humility and graciousness have reminded us that apologetics is a matter of the heart as well as of the mind.
Dr. Zacharias writes with reverence about his Savior and Holy Scripture. He writes with kindness toward his fellow humans. He writes with strength about what Scripture says and what it means to us. Both gentle humor and keen wit come into this book in the proper places, the humor always teaching us something.We love to watch his lectures on Youtube and we have been greatly blessed by his books. If you have never read anything from Dr. Zacharias, you should. I was very blessed to receive The Grand Weaver from Zondervan to review. I am pleased to have a copy of the Grand Weaver on my family's book shelf.