A farm in Maine's beautiful Northwoods, in 1954.
The authors' clear delight in this place brings Mercy's love for her home to life, and spills over into the remarkable descriptions that let us see Mercy Millar's world.
Through Anita and Caryn's word-skill and through Mercy's perceptive eyes
we are able to watch her fifteenth summer unfold.
Mercy's summer began with a hidden love between her and a Maliseet Indian boy, Mick.
Their summers were usually spent together, working in her father's fields... Mick and fellow Indians as paid laborers and Mercy as the trusted son her father never had. Each year they harvested the crops with little regard for who was white or who was Indian, but that would only last as long as the assumed boundaries and rules of conduct were maintained.
Ignorance and pride hold up that ugly wall of racism, and Love, the best description of the One who created and redeems this very world, is not allowed between an Indian boy
and a farmer's daughter.
That summer of 1954, tension rises in Watsonville Maine and the prejudices
and irrational hatred of the Indians seeps out.
People whom the Millars called friends suddenly seem to change,
becoming resentful, threatening violence...
all because a woman loved a man of the "wrong color."
Their choice to love was a spark to a powder keg, and the two who are closest to the resulting fire are the younger couple, Mick and Mercy.
Their innocent and growing love is about to be threatened in ways
the Millar family never would have imagined.
Yet the Millar family will prove, to Mercy and to the community, that Love is the strongest force, and that Love will survive. The Millar family moves in that most beautiful dance that makes up daily life with the people dearest to you: imperfection yet grace, growing and learning and sticking together as a family.
These words of Mercy's will have to give you a sense of the peace and wholesomeness
that filled her life up until that summer. "There's nothing like new potatoes and freshly shelled peas with sweet cream. Add Mother's homemade rolls and that's always our first potato meal of the season. Eating what the sweat of your brow has nurtured and worked hard to produce is something only those who work a farm can fully understand."
Mercy goes on to say that nothing can top "The wide-open sky full of billowing cumulonimbus clouds with the flowering rows of potato blossoms,
sun kissing every field in bloom."
This is a tale you must experience for yourself.
Add this book to your early Fall 2013 reading list.
Thank you Anita and Caryn for blessing me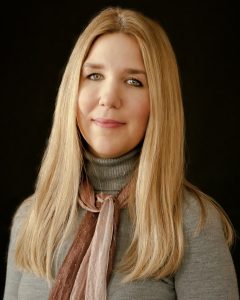 Caryn Rivadeneira might spend more time thinking, dreaming and plotting than she does actually writing. But since it's the writing part that pays (some of, at least) the bills, she calls herself a writer. Oh, and a speaker. And an editor. Definitely a mother. And a wife. And now she's on the worship staff at her church. It gets so complicated. Which is sometimes she has to reread her very official biography to remember who she is.
Authentic. That's the word heard over and over when women describe Anita. She is a popular speaker at women's conferences and retreats, and an amazing communicator as co-host of the award winning Midday Connection radio broadcast. Her deep desire is to communicate freedom to women and help them nurture and care for their soul.
Anita is the co-author of "Come to Our Table: A Midday Connection Cookbook" and "Daily Seeds from Women Who Walk in Faith", a Devotional for women. Her first solo venture as an author releases in November, 2010, "What Women Tell Me: finding freedom from the secrets we keep."
Anita and her husband, Mike Murphy, a pastor, along with her teenage son John live in the Chicago suburbs. When she's not traveling or speaking, you can find her reading and drinking a venti hot tea at her local Starbucks.