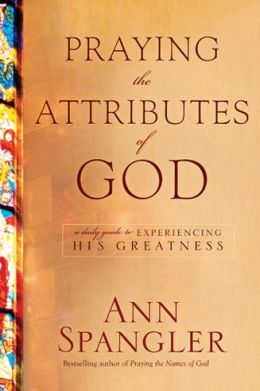 For the last two weeks I've been digging into Ann Spangler's newest book,
Praying the Attributes of God.
Ann's writing is clear and understandable, and her presentation is engaging. Her writing forms the perfect setting for the precious gems from Scripture that she spreads before us, because we are talking about the attributes of God. Her words help us focus on Him!
This devotional book is rich and deep with theology and practical in insight. It is a blessing to have this book as an aid to help us meditate on God.
Perhaps the best way I can state my high recommendation is to say this: My Bible has never had such a workout from one devotional before in my life. I have underlined, drawn circles, drawn crosses, made notes... and I have come to know my Bible better for it.
I own one of Ann's previous books,
Women of the Bible,
and I am happy to add
Praying The Attributes of God
to my shelf of 'Books for Anyone Who Wants to Know God.'
Tyndale Publishing was kind enough to give me a copy of this book for review.
Ann Spangler's sensitivity to the ever-changing spiritual and cultural climate in which we live has enabled her to address themes of profound interest to many readers. Praised for the freshness, depth, and honesty of her writing, Ann writes in ways that reveal not just her intellectual curiosity but her desire for a deeper connection with God.
God Is Bigger Than You Think
By paying attention to the spiritual and emotional hungers that animate us and by finding creative ways to explore God's self-revelation in Scripture, her writing surprises by revealing a God who is often far bigger and better than we might imagine.