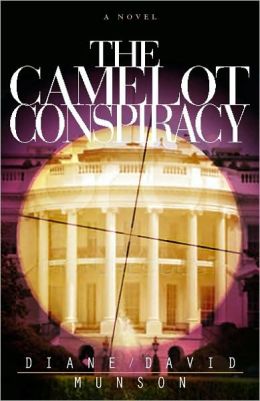 The Camelot Conspiracy
is one captivating read. I shared this book with a review buddy; she read it first, then I read it, and along the way we discussed what we liked so much about this story.
First lets talk characters. Characters are the factor that makes a story, in my estimation. Our main characters are Jack McKenna and Kat Kowicki. Jack is a harmonica playing, licorice eating, blue-eyed Chicago cop, currently working on a joint terrorism task force.
Kat is an investigative reporter who will never stop striving for stories that tell the truth and expose corruption. It doesn't matter to her how powerful the person is whom she's exposing, or how close their threats come to her.
Then their are the other characters, many of them involved with the task-force.
They are a diverse group of men and women from multiple agencies and countries of origin, and they all have one goal that bonds them together: keeping the world safe from terror.
Their teamwork is a great part of this story, and their exchanges back and forth reveal their personalities. We get little windows into their lives: Eva Montanna, who is eager to get home to her children and husband; Griff Topping, who is waiting for a woman he loves to call him and renew their relationship, and Bo Rider, who we first meet in this book as he leans against a doorjamb and works on a Sudoku puzzle.
Now for the Plot. Much of the plot of
The Camelot Conspiracy
is just that: plots.
A unique and deadly terrorist plot, buried conspiracy plots, global espionage plots....
All these threads tie together to make a very exciting story and through the Munson's skilled writing, it isn't overwhelming.
And the Settings. From a lavish empire in the Islands funded by drug running, to the Chicago restaurant 'Mrs. O'Leary's Lantern', to a dirty warehouse in Kazakhstan, you feel like you are right there with the characters.
Thank you Diane and David for sending me my review copy! I am eager to read more of your books.
Diane Munson, an attorney of more than twenty-five years, developed a love for writing when she was a young child and experienced a major twist of genres. She transitioned from writing briefs for judges to writing inspiring fiction for readers. She served as an Assistant U.S. Attorney in Washington, D.C. in the U.S. Department of Justice, where she argued cases before juries and judges. Prior to being a federal prosecutor, she was appointed by Attorney General Edwin Meese III as an official in the U.S. Department of Justice. Diane enjoyed working with Congress and the White House on policy issues. More recently, she has flown solo in a law practice specializing in mediation, family law, and representing children and parents in neglect and abuse cases. As a lawyer, she has written book reviews and articles for the Christian Legal Society of which she is a former National Board member. She is also a member of the American Christian Fiction Writers.

David Munson had a dangerous career for twenty-seven years as a Special Agent first with the Naval Investigative Service (now NCIS), and concluding with the Drug Enforcement Administration. As an undercover agent, he infiltrated international drug smuggling organizations, helping fly plane loads of drugs to the U.S. from foreign countries and then feigning surprise when they were arrested. In one case, David arrested four associates of former Panamanian President Manuel Noriega, who then testified against the dictator. David spent two years on Capital Hill. He served as a Congressional Fellow for the Permanent Subcommittee on Investigations where he investigated the government's efforts to co-opt foreign spies and other classified military operations.
David and Diane worked together as Christian mediators in their own firm and helped many people seek forgiveness and restoration in their relationships by applying Scripture to their lives. They have seen that justice and forgiveness are possible, no matter the circumstances. Based on the success of their first suspense novel, they placed their mediation service on hold to pursue their writing career. As they travel to research and cloister to write, they thank the Lord for the blessings of faith and family. A verse they hold dear is Jeremiah 29:11, "For I know the plans I have for you," declares the Lord, "plans to give you a hope and a future."