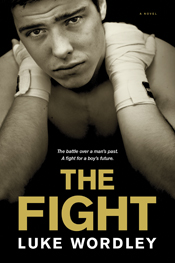 I know almost zilch about boxing, and yet this book has haunted me since I finished it.
Please don't let a similar lack of knowledge stop you from picking up this book.
The Fight is about far more than boxing.
It's about the brevity of life.
It's about how one person is dying while another one is healing.
It's about second chances and taking chances.
It's about breakthroughs and breakdowns.
It's about God and despair and the maddening/wonderful ways that He ambushes us in the middle of it all.
When Sam shows up at Ilford Boxing Club, he's already broken several noses, blackened many eyes, and busted someone's rib.
That's just what's on record. And he's only fifteen.
He's drawn to fights like a moth to fire. Sam needs to inflict the pain that's inside him on an outside opponent. Boxing seems to offer that.
That means that Sam needs Jerry to train him. And Jerry needs Sam to be a champion.
Jerry Ambrose is a good man. A fine man.
But there's a darkness that hasn't been resolved yet, and if it isn't dealt with, then he's going to pull Sam down with him.
At the end of the day, what are you really fighting for?
If you've ever felt the least bit like Sam or Jerry, like you need to fight something to feel alive, or like you failed and maybe God really hasn't changed you after all, you need to read this story.
If you've ever loved a brother or a best friend, you need to read this story.
By the end, you'll be so glad that you met Geoff and Earl and Sam and Mario and Jerry and Robbie and Gloria and Janet.
I am.
Luke Wordley has given us a solid, spiritually attune story here, for men and also for ladies. We need more authentic novels like it.
Thank you Tyndale for my review copy.
Luke Wordley is 37 years old and lives with his family in the South of England. A passionate Christian, he has spent most of his career involved in charity work and International Development. 'The Fight' is Luke's first novel.