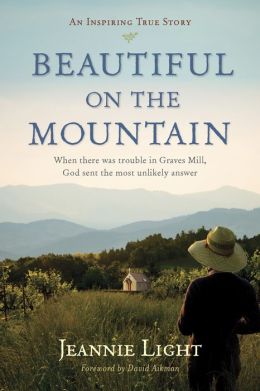 Church and Community, two things that are really one, and every human being craves the substance of them.
Community: the care and help and camaraderie of other people.
Church: the Word and sacraments to remind us of the Love and Presence of God.
This is Jeannie Light's story of getting deeply involved in a Church and community in the Virginia hills. When you decide to invest yourself in a small town, there is no end of big issues and complexities to deal with, any bucolic appearances aside.
Thats how it was for Jeannie in Graves Mill.
She found her self involved in everything from community Thanksgiving to logging operations to local Bible study and a family's loss of a child.
She met friends there, some who came and ministered and departed like Heaven's angels, and some who stayed on and became kindred spirits. All gave of themselves to make communion out of isolation.
The descriptions of these hills- the great trees, the blackberries, the rough roads, the rushing streams- are so well drawn that I can almost breathe the clear air.
There's danger there too, and adventure, rattlesnakes and timber rustlers and hunters and poachers. It was the 1970's, and the back-to-nature movement was in full swing. There were people trying to find peace through lives of self sufficiency and people trying to make a profit, all on the same Good Earth.
Jeannie writes with an eye for the little incidents, the scraps of conversation, the first meetings with new friends. All those things that we call small, but they make up our dearest memories and when we look back we see their significance in shaping us.
Thank you Tyndale for my review copy of Beautiful on the Mountains.