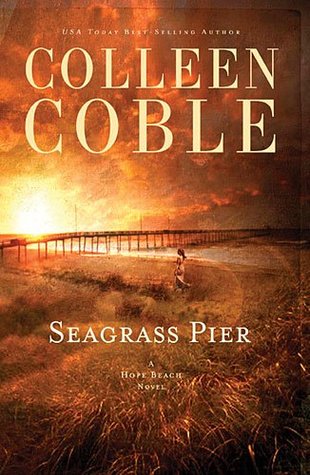 Colleen Coble's novels, for me, are marked by three factors.
The first factor is the setting, a locale that is always carefully described and full of charm. In this case, it's Hope Beach, a place some readers will know from Tidewater Inn and Rosemary Cottage. Beautiful shoreline, peaceful nights... and crime.
The second is a small "family" of main characters who you really come to love. In Seagrass Pier, we get to meet Elin Summerall. She's the recipient of a new heart... and new memories and new nightmares. Thanks to cellular memory, Elin is having flashbacks to a murder.
Her experiences and her personality made her a fascinating character.
Our Coastguard friends from the previous books make some appearances too.
Josh and Sarah, my favorites, carry their story along a little further with plenty of trips and falls on the way.
And the third factor is suspense. Colleen stirs a ton of mystery into her tales.
This novel was engaging with a capital E. Two people, meeting again after years apart, trying to deny their past history, chasing down a criminal based on her borrowed recollections and his devotion to her. Yep. If you're in the market for a character driven who-done-it, with a stay in a lovely old beach house included, then this is your book.
What a great Summer 2014 Vacation Read this will be.
Thank you Litfuse for my review copy!