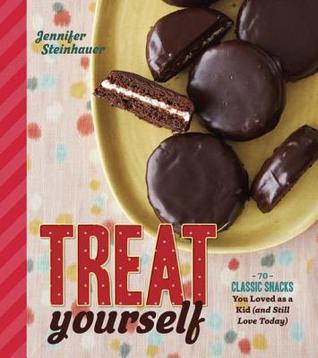 First I have to say that Treat Yourself is loaded with great photography. From the moonpies on the front cover to the thick fig-newtons to the oh-so-fancy samoas and the chewy chocolate caramel Twix bars, almost every recipe has a photo that convinces me to try it.
I like that the recipes are photographed in various stages of completion... I think I'd be snacking the whole time I was cooking, and I think I'd be in good company! :)
Treat Yourself is a cookbook with 70 recipes for home-made versions of favorite commercial snacks.
This book is divided into seven sections.
1. Classic Cookies, such as Thin Mints, Graham Crackers, Windmills and Chips Ahoy!
2. Sandwhich Cookies, like Nutter Butters (with the right shape!), Oreos, and Oatmeal Cream Pies.
3. Snack Cakes, such as Zebra Cake and Coffee Cake. Honey buns and Sno-Balls are also included here.
4. Fruity Treats and Filled Things, like Lemon Mini Pies and those awesome looking DIY Fig Newtons.
5. Savory Snacks, such as Soft Pretzels and Pizza Pockets.
6. Candy.... think home-made Mounds Joys, and Peanut Paydays.
7. Frozen Treats, like Ice Cream Sandwich and Orange Creamsicle and Strawberry Shortcake Ice Cream Treats.
Obviously, this isn't a "health food" cookbook, but it isn't unhealthy either. Think of all the chemical stabilizers, preservatives, and artificial flavors you'll be avoiding by fixing these snacks at home.
Interspersed throughout the delectable desserts are Jennifer's very fun and often comic memories about growing up with these snack foods, as well as tips on preparation and presentation. Even if you only make ten recipes out of this book, and you keep it on your cookbook shelf and surprise friends and family every few months with a new version of an old snack, I think Treat Yourself would be a trip down memory lane.
(I showed it to a 60 year old friend of mine and he recognized almost everything in here!)
So... here's to treats. Our memories of them, and the hours of the future spent creating them.
Thank you Blogging for Books for my review copy!