(First, can I thank Rich Mullins and Brennan Manning for preparing my heart to ponder on Biblical wisdom wherever it is found, also in Catholicism? Thank you, both of you!)
First Come Love is a really rich look at the communion of perfect love within Trinity, and how God brings us into His own family.
That summary is as shallow as a puddle, by the way. That's what this book did for me, it convinced me that I can swim in this truth my whole life, diving deeper and deeper, and never see the bottom of it. Any attempt to explain it will be mere splashes at the surface, but once you've gotten a bit wet you'll want to get in and experience it for yourself. And you can. That's the miracle.
We can be part of God's actual family.
Now slam on the brakes. Because I know what you're thinking: "That's nice."
You're thinking "I've heard that before, and I believe it. God is my Father and He has a Son and we're all His children, etc. Got anything more stimulating/profound?" Uh, guys, this may be the Main Mystery.
After all, the whole point of our existence is communion with Him, and the problem with sin is that it made us slaves instead of sons, and the point of redemption was to restore us into His family.
We've probably heard about being God's family so many times that the magnitude of it is bouncing off our eardrums, now all but unheard.
Scott Hahn is urging us to hear it again, and to learn who we are.
I can't break the many parts of this book down into a systematic review, but I can tell you one I love about it to whet your appetite.
I love what he says about the Holy Spirit, and how this Third Person is like our mother. The Holy Spirit nurtures us- on spiritual milk, and teaches us to walk- in the faith, and to talk- in prayer.
As Hahn writes, "How fitting it is, too, that one of the first words the Spirit teaches God's little ones is 'Abba,' as Paul explains: 'When we cry Abba! Father! it is the Spirit bearing witness with our spirit that we are children of God.' A bishop of the fifth century, Diadochus of Photike, said that the Spirit acts 'like a mother teaching her own little baby to say daddy, repeating that word along with the baby until it becomes so much the baby's habit that calls its daddy even in its sleep.'"
I also think this is a beautiful definition of the heart of family: Looking upon someone who looks back in love.
Thank you Blogging for Books for my review copy.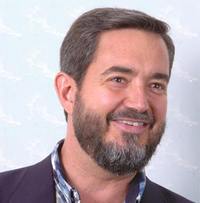 Dr. Scott Hahn was born in 1957, and has been married to
Kimberly
since 1979. He and Kimberly have six children and are expecting their fifth grandchild. An exceptionally popular speaker and teacher, Dr. Hahn has delivered numerous talks nationally and internationally on a wide variety of topics related to Scripture and the Catholic faith.