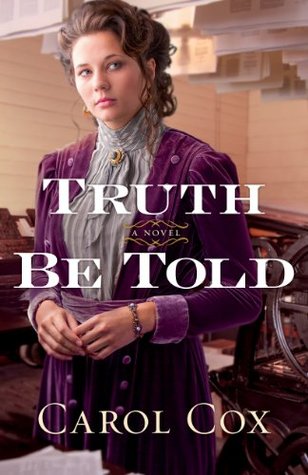 A woman determined to run her father's newspaper, The Granite Springs Gazette.
A man determined to help her, who is troubled with alcoholism.
A man destined to come into her life and make it far richer.
Truth be Told is a slow-paced historical set in Arizona, with some good South Western details.
The story revolves around Amelia, her newspaper, and a railroad company that is up to some shady deals.
The atmosphere of a struggling newspaper with one troubled employee, trying to find stories and keep the business afloat, is brought to life here.
If you're looking for a story with a woman who dares to dream and a man who comes alongside her and joins the dream, Truth be Told is a fine choice. If you also like a little 1800's progress in your stories, with trains and towns and lots of trouble moving West, then let the Truth be Told.
Thank you Bethany House for my review copy!