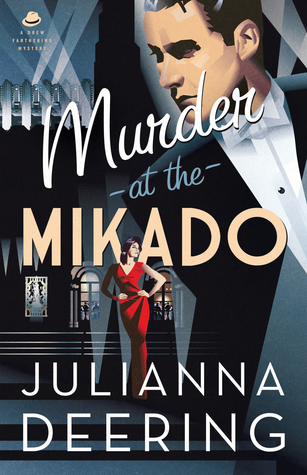 I did jump into the third book in a series with Murder in the Mikado, but the plot was easy enough to follow without the backstory.)
This is the third Drew Farthing mystery, and when this one begins Drew is madly in love with his fiancee Madeline and buried in wedding plans.
While Madeline dreams of choosing china patterns and wearing heirloom lace, Drew dreams of a future with this girl who understands him so well. She loves his home, appreciates his friends, and even solved two crimes with him! Drew hopes for domestic bliss in the years to come, and perhaps a few more detective cases.
Of course, Drew doesn't want a case to land in his lap during pre-nuptial planing! And when the suspect is a woman Drew was once involved with, how is he to clear her name and keep Madeline happy?
This mystery is just English enough to have that particular flavor. Drew talks about "traveling the Continent," and teatime is a fixture every day. Murder in the Mikado reminds me a bit of a Josephine Tey mystery.
The extra characters are just difficult enough to peg that you will probably have multiple suspects.
Drew and his friends Nick and Madeline make a fine and funny trio. They've still got a lot of growing-up to do, as they try to clear the suspect's name and prepare for their own futures. I heard that Julianna Deering is contracted with Bethany House for three more mysteries in this series, and we surely need further installments after this. The case may be solved, but we have to know more about the characters!
Thank you Bethany House for my review copy!