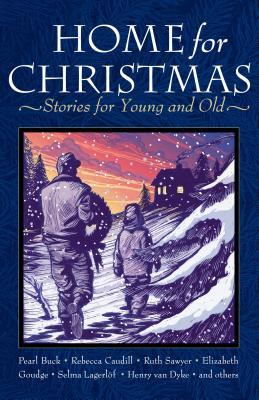 Now, I devoured this delightful Christmas treasury in July and August and I thought that was a perfect time to read it. But you may not have been ready for Christmas in mid-Summer.
So I'm sharing my review with you now in September, because Fall is definitely in the air.
I don't know if this is just a feature of New England or not, but seasons here don't come when the calendar dictates. I've had Spring arrive on Valentine's Day, and Spring sail in on April 9th.
I've seen Winter start on a bone-cold October night with a billion stars, and I've seen it wait until almost Christmas.
In 2014, I think I'm seeing Fall outside now. My maple tree is putting on a reddish chocolate color, and the tansy is crisply brown. We passed a small yellow house the other night in the curve of the road, with their woodstove going and the smoke was Fall's sharpest perfume.
So I'm thinking Christmas. And without further ado, let's here about Home for Christmas.
Home for Christmas is a thick book packed with lovely stories.
Some of them are slightly comic, some of them have a clear moral lesson, some of them will make your heart swell with happiness, and all of them celebrate truth, goodness, and beauty.
Brother Robber~ When St. Francis hears that robbers have threatened one of his brothers, he is grieved. He is grieved because the brother sent the robbers away empty handed! Can you call a robber a brother at Christmas?
Three Young Kings~ Every Christmas, it happens the same way. Three boys from the local school ride through the streets of this Cuban town, dressed in finery and riding cream colored stallions. To the children they visit, they are The Three Kings, and they give out gifts.
Except this year, the boys are Lazaro, Ramoncito, and Eduardo. Their nicknames are Macaroon, Monkey, and Elephant... and they can't give out gifts to the rich kids when the beggar children are crying so hard!
Transfiguration~ Sister Egg, a nun, is walking home to the Convent on a cold New York street when she meets two homeless people.
What does a harsh world- desperation and crucifixion- teach us about God, at Christmas or anytime? This story is by Madeline L'Engle.
Willibald's Trip to Heaven~ Surely a man who has devoted his life and talent to carving Manger scenes would be escorted straight into heaven and given a banquet, right? His ego, arrogance, ill-temper and narrow mind back on earth are all just part of the artistic temperament, aren't they?
The Guest~ Set in Siberia, where the men and women are prisoners of exile. This is a story of forgiveness with a surprise ending that is wonderful, and so fitting.
Christmas Day in the Morning~ Pearl Buck's wonderful story about the boy who milked the cows on Christmas morning.
Weaving past and present together, this is one to share with a father or grandfather in your life.
The Other Wise Man~ Oh, how I love this tale. Again, the ending is precious and true, and the way it is brought together reminds you why God told stories around his sermons. Artaban sets out with three treasures to give, and spends his life working and searching and serving.
The Miraculous Staircase~ It is almost Christmas, and the Sisters in the Loretto Chapel of New Mexico need a staircase. The traveling carpenter who arrives is very kind and good-hearted, but surely he can't build stairs where such construction is impossible!
No Room in the Inn~ A teenage boy has just been sentenced to a terrible fate: he's "home alone" for Christmas at a ski-lodge, with food aplenty!
It all suits his self-centered plans just fine, until a guy drives a junker of a car up to the door and asks for shelter. Katherine Paterson's stories are always memorable because they combine "real-life" with a "what if we saw the true significance of this?"
The Chess Player~ "God comes. He brings something new into life. Love!"
The Christmas Lie~ This story is saturated with family love in every scene.
A quiet little girl tells her family that their closest neighbor has invited them over for Christmas dinner. Starved for human companionship after months on the Canadian prairie, her mother and father immediately begin making plans to attend. Oh, the guilt in this child's heart as Christmas approaches, and her many siblings anticipate a surprise that isn't really coming!
The Riders of St. Nicholas~ From the author of the classic Western "Shane" comes the story of three cowboys left to tend the ranch while the rest of the crew goes off to have Christmas fun. Monte Walsh, Chet Rollins, and Sunfish Perkins are all set to be miserable... until they discover that a feast has been left behind for them! Now they just have to wile away the day. But their peace can't last long... a stretch of fence is down!
Every Christmas, we read a similar story by this same author, about a cowboy named Stubby Pringle. Now we have two cowboy Christmas tales.
Grandfather's Stories~ Grandfather tells two stories about the Child who was born at Christmas, whose voice alone can change a lying, hard heart.
The Vexation of Barney Hatch~ Barney, a panhandler, is dreaming of a Christmas to remember. He has visions of a glowing Christmas, packaged in a bottle with a gold seal, his to drink up for only $3.49.
Now how can he get rid of the kid who's convinced that Barney is Santa Claus?
The Empty Cup~ This is a story about a young couple and their son who is born at the same time as Jesus.
When the edict goes out that all boys under two be killed, Rachel weeps for her slaughtered child and then descends into depression so deep that her husband cannot help her.
The Well of the Star~ This story treats the whole of Christmas night as if it were Really Real.
The mighty angels in the fields right with the common shepherds, the poor and dirty town of Bethlehem full of tired people waiting to be taxed.
The star that lit the way and moved to rest over a plain building, where kings found the Baby.
And after reading this, I realized that the Holy Spirit who orchestrated that Night now lives in me, and I must remember that I am never alone.
A Certain Small Shepherd~ Jamie is the small boy from Pine Mountain, who cannot talk with his lips and who desperately wants to be a shepherd at Christmas. When a wild storm snows in Hurricane Gap, and two strangers shelter in the stable... what will Christmas morning bring?
What the Kings Brought~ A young boy with the ethics of a man makes his way to the city to buy a burro for his father. Two tourists see the boy's pride and diligence and wish to help him earn the money. The Three Kings are coming for Epiphany, will they bring a boy a burro?
The Carpenter's Christmas~ The story of a man who worked (and swore!) while his neighbors went to Mass.
Can a gentle and wise priest explain that in this instance, working was praying?
The Christmas Rose~ Ah, this one is a sad one. A family of robbers stumbles into a Convent, and a lay brother tries to chase Robber Mother out of their herb garden. She says she is not impressed with their garden, they should see the garden that blooms on Christmas Eve in the forest. The descriptions of the Christmas Eve paradise here are beautiful... words used well!
This is truly a fine collection, and if you read-aloud from this book you will touch hearts and make memories. Start with any story, snuggle in on the couch with some children, and prepare to have your heart readied for Christmas.
Thank you Plough Publishing for my review copy.