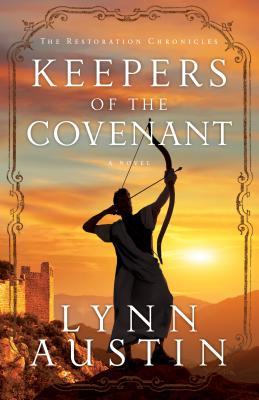 Lynn Austin wrote the first historical fiction novel that broke my heart. It was Fire by Night, and it was set in the Civil War. She had the ability to take me back to a time I could never experience except through pages, and make me care deeply about people who were birthed from her creative mind.
When she began The Restoration Series, which takes us all the way back to the Old Testament, I was excited.
For me, novels are the best way to cement the historical facts in my head *and* spark my imagination at the same time.
I reviewed the first book last year, Return to Me. Volume two is Keepers of the Covenant, and this one follows the writing of the book of Ezra.
(If you remember, Ezra's Biblical book is oddly enough written in first person, like a journal. Throughout this novel we see Ezra recording his days, and that will eventually become his prophetic book.)
Ezra himself is our main character, a Rabbi and a scholar, and he wants his people to return from exile and heed the Word of God again, because their lives depend on it. Lynn shows us Ezra's struggle to be faithful to the Word, and she adds the dimensions of a personal life. For in this story, Ezra marries Devorah- a widow named after the woman who was braver than a general. This Rabbi who wants justice and purity finds a perfect counterpoint in his wife, who tempers his convictions with mercy and grace.
I like the way Lynn pictured that- an Old Testament couple where the man and the woman balanced each other as they worship the Lord.
The minor characters are excellent as well. There's Rueben, a Jewish boy who disavowed his God and his heritage to live like a pagan Babylonian.
And there's Amina, an Edomite orphan who loves the God of Israel as much as Abraham himself did.
These characters are swept up in the grand drama of being called back to the Living God, back to their land and their temple.
A final word: the book of Ezra culminates in a powerful and terrible decree- every Jewish man who took a pagan bride must send her and their children away, to cleanse the land from idolatry.
I wondered how Lynn would handle this. She does it with sensitivity and honesty, showing us how torn they must have been, yet she stays within the realm of possibility. I can imagine a scene like she described really happening. I hope it did!
So my verdict? This series would make great reading, especially to complement a Bible study. I would have found it enthralling as a home-school student.
Thank you to Litfuse for my review copy!
For many years, Lynn Austin nurtured a desire to write but frequent travels and the demands of her growing family postponed her career. When her husband's work took Lynn to Bogota, Colombia, for two years, she used the B.A. she'd earned at Southern Connecticut State University to become a teacher. After returning to the U.S., the Austins moved to Anderson, Indiana, Thunder Bay, Ontario, and later to Winnipeg, Manitoba.
It was during the long Canadian winters at home with her children that Lynn made progress on her dream to write, carving out a few hours of writing time each day while her children napped. Lynn credits her early experience of learning to write amid the chaos of family life for her ability to be a productive writer while making sure her family remains her top priority.