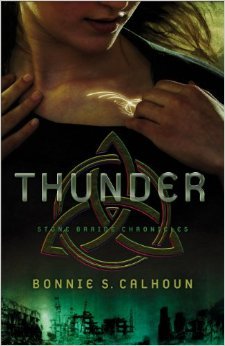 Considering that I am a very fearful person by nature, I try to steer clear of dystopia. I think I've read three of them, and each one is the story of a world gone wrong.
(Remember- I'm the eight year old who stayed up one night worrying frantically that the sun would explode. And then worrying that I'd never sleep again.)
So anything set in a Post-Nuclear-Devastated America where a small but iron-handed group of elites run the show and the common people fight, kill, and struggle to survive is probably a no-no for me.
So how did I end up reading Thunder? I'm reviewing it of course. And yes, I did find it rather scary. Those mutant rabbits were really creeping me out!
My Mom asked me why kids gravitate to dystopia today. "Is it because they feel such hopelessness?"
I think part of the lure of dystopia *is* that the settings are dark, and the author gives us permission to feel vulnerable and anxious about the darkness. Yet the authors also go a step further beyond wallowing in fear- they introduce us to ordinary young people who becomes heroes.
These boys and girls help fight the evil government, their own souls, and restore balance to the world.
I think if you've enjoyed Veronica Roth's Divergent and Jill Williamson's Safe Lands Trilogy, then you'll love Thunder.
Selah is a girl determined to be as tough as her brothers, yet she's also unsure of herself when her world shifts under her feet.
She wanted to prove her worth, but now she has to risk her life to rescue an enemy.
And then she finds herself bonding with the enemy when she realizes their fates are linked.
Add in the "adolescent" emotions Selah feels (longing for responsibility, sibling rivalry, beginning to romantically "like" somebody) and this book will grab many a teenage reader.
Thank you Revell Reads for my review copy!
I love to write, but it doesn't make me happy unless there are the three B's...body count, blood, and blowing things up. I also have mad skills at coding HTML, and website design. I live in a log cabin in the woods with fifteen acres and a pond full of bass, though I'd rather buy fish at the grocery store. I share my domain with a husband, a dog, and two cats, all of whom think I'm waitstaff!