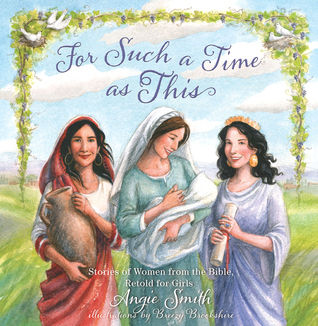 "For Such a Time as This" is a children's books designed to serve as an everyday companion without sacrificing its keepsake qualities.
I think it will earn worn pages and a cracked spine- it certainly would have in my house!
First, I want to talk about the way Angie Smith writes. It's beautiful, almost like a really good women's devotional, without ever being above a girl's understanding.
She brings each account around to the way God's heart was displayed , and she shows the character's responses to him. We his grace and mercy and patience and hope- she points out his hand in each woman's life.
And she uses words well. She reframes what the Scriptures tell us in a way that expands our imagination.
These aren't narrow, flat, factual retellings. They're positive, imaginative renderings of God's revelation.
Christmas is "One night where the ordinary kissed the sacred, never to be the same again."
In Eden, "Life together was barefoot and perfect, every moment a gift from the Giver."
Children will get these images.
They'll get the idea that creation and life and goodness are tangled up, and they'll look for holiness in the middle of it all.
And now, take a look at Breezy Brookshire's illustrations. The colors, the lines, the movement!
(The details... notice the koala bear she tucked into Shem's arms as they board the ark?)
As kids, my sister and I wore out Kenneth N. Taylor's Bible story book. We loved his artwork, yet he focused mostly on the masculine figures. This book features the feminine faces.
We see lovely Rebekah, with her pure heart shining out of her eyes.
We see the aged Anna, waiting for the Promised One.
And Breezy even captured some of the more obscure women like Hagar, Rahab, and Gomer.
We see Hagar collapsed in the desert, crushed by despair because her son is dying of thirst.
Then we see her reviving Ishmael with the water the Lord provides.
We see Rahab, on the roof, arms crossed, alone and broken.
Then we see her crack open the door to the Israelites, the moment that changes her life.
We see Gomer for sale on the salve block, dressed in tatters.
And we see her redemption, as she's welcomed home to her children.
B&H Kids provided a review copy for my, and in return I provided my opinion. Prepare to meet a new favorite author/illustrator team. And if your girl happens to be a budding artist, then the notes from Angie and Breezy on how the book was made will be fascinating. (My sister would have pored over these pages.)
Angie Smith
is the wife of Todd Smith (lead singer of Dove Award-winning group Selah), author of
I Will Carry You
,
What Women Fear
,
Mended
, and most recently
Chasing God
. She lives with her husband and daughters in Nashville, TN. Her first children's book,
Audrey Bunny
, was published in October 2013.
Nurturing children with beauty, goodness and truth as it is only found in God's Word is at the core of Breezy's vision for her art. She is currently working on a few children's products, and shares a home studio with her sister, Emily Rose. Breezy is a 22-year-old follower of Jesus Christ, and lives in Indiana with her sister and parents.