Joy to the World. That's an apt title, because Dr. Hahn makes the case that joy is at the core of Christmas.
This is my second book by Scott Hahn. I appreciate his writing because he connects the historical facts of what it meant to "them" back then with the timeless truth of what it means for us right now.
He takes his scholarly knowledge and pores over Scripture, then puts it all together amid conversational narration.
Dr. Hahn comes to the conclusion of Christmas joy after closely examining the Gospel accounts of the Nativity, adding relevant details and broad context.
And after reading through these fourteen chapters I think you'll be eager to receive that joy.
He begins by reminding us that the Nativity was an intimate scene, protected within a tender trinity of family. At the same time, it was a conquest more decisive than any army could bring about.
Dr. Hahn takes us through all the highlights of the story, encouraging us to slow down and look deeply.
We ponder the Town of Bethlehem, the City of David and the "House of Bread." The Son of David and the Bread of Life was born here. He tells us about several theories that make sense of the census, including one suggesting that is wasn't a tax census but a public oath of allegiance to Ceasar.
We talk about the chorus of angels, heavenly messengers with proclamations of goodness. Dr. Hahn suggests that we can learn from the Holy Family that God's angels are watching over us too.
He says it like this: "We live with the angels as friends." I really like that image.
He tells us about the Magi, those foreign stargazers, mysterious men who worshipped the infant Jesus. He quotes Origen: "Gold as to a king; myrhh as to one who was mortal; and incense as to a God."
We look at the midnight flight to Egypt, land of idolatry and place of shelter. We compare the life of Moses and Jesus, and we see that Jesus is the one who delivers his people from all bondage.
Joy to the World ends with an invitation.
Dr. Hahn writes: "We evangelize when we have ourselves a merry little Christmas and invite others to share it. That's the best way to evangelize friends, family, coworkers, and everybody else. Why? Because the world offers countless pleasures but no lasting joys. What Jesus Christ gives is joy, even in the midst of hardship and sorrow- even amid persecution, flight, and exile."
So prepare your home and heart for Christmas. Cram every corner with celebration. Whether the trappings are humble or extravagant, the joy is lavish and real.
Thank you Image Books through Blogging for Books for providing me with a review copy.
The above is my opinion. :-)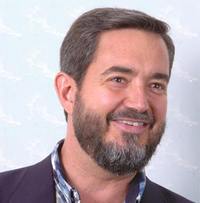 Dr. Scott Hahn was born in 1957, and has been married to
Kimberly
since 1979. He and Kimberly have six children and are expecting their fifth grandchild. An exceptionally popular speaker and teacher, Dr. Hahn has delivered numerous talks nationally and internationally on a wide variety of topics related to Scripture and the Catholic faith. Hundreds of these talks have been produced on audio and videotapes by St. Joseph Communications. His talks have been effective in helping thousands of Protestants and fallen away Catholics to (re)embrace the Catholic faith.
He is currently a Professor of Theology and Scripture at Franciscan University of Steubenville, where he has taught since 1990, and is the founder and director of the Saint Paul Center for Biblical Theology. In 2005, he was appointed as the Pope Benedict XVI Chair of Biblical Theology and Liturgical Proclamation at St. Vincent Seminary in Latrobe, Pennsylvania.