*Fight Back with Joy* is two things at once.
First, it's a deeply personal story of Margaret's battle with cancer. My Grammy just dealt with sarcoma cancer, and the details of hospital and chemo were terrifying to read. Cancer is such a scum-sucking disease, and I wish we could rid the world of it. It's not comfortable to read about it, and I can't imagine living it. The phrase "in the trenches" doesn't begin to do it justice.
That what makes the second part of this story so incredible. How could a couple dealing with so much pain and devastation possibly decide that JOY was going to be their weapon of choice? When anger, bitterness, resentment, and cynicism could have choked their hearts, how did they embrace joy?
And what is this joy they speak of- that they discovered in the agony of cancer treatments, that they sought to pour out on other patients, that they want to grow ever-more aware of in their lives?
Margaret says: "C. S Lewis described joy as serious business, yet I assumed I could take joy lightly, capturing it in my free time like fireflies in a mason jar. I learned that you need mush more to unleash the power of joy. You need chutzpah, you need backbone, you need intentionality, and sometimes you need a crisis."
Over the course of this book, Margaret unpacks some big ideas. Listen to this bold claim: "Joy is your heritage, identity, and destiny."
How could that not move us, not make us thirst for what she describes?
Then she moves to lessons that she learned-
The journey to Joy begins with acceptance.
The journey to Joy advances through adaptability.
The journey to Joy leads us to greater dependence on Christ.
Joy waits for us in the morning, and comes to us through our mourning.
Joy will rarely make sense, but as Rich Mullins might say, it will make life.
Reading this made me want to claim her motto as my family's own- Joyful Are We!
Thank you Worthy Publishing for my review copy.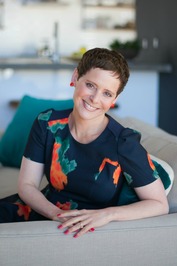 Margaret spends most mornings with her good friends Coffee and God. Without Coffee, mornings would be difficult. Without God, life would be impossible.
You'll often find Margaret (puppy-in-tow) adventuring outdoors—she enjoys hiking, river rafting, and scanning the night sky for the Northern Lights and shooting stars.
She boasts an exceptionally dry sense of humor that she attributes to her Jewish father. Little known secret: He was recently inducted into the Surfer's Hall of Fame, and her mom earned her captain's license for 60-ton ships. They're pretty amazing. You'd like them.
Married to Leif for more than a decade, Margaret's known for losing things like her sunglasses on her head, keys in her hand, or her phone for the 12

th

time in the same day. Luckily, Hershey hasn't been left anywhere… yet.
For being a writer, friends say she has a surprisingly narrow vocabulary and uses a lot of the same phrases including, "I'm game", "Whahhooo!" and "Oooh! Let's do it."