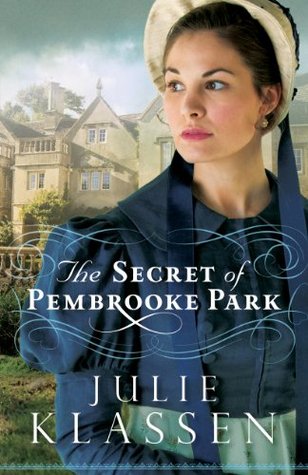 The Foster family is reeling from financial ruin, trying to preserve a sophisticated appearance and stay off the streets at the same time.
Deliverance will come- as usual- from an unexpected place.
A solicitor arrives and invites the Fosters to move into a manor. They are not inheriting the estate, he explains, but he has a client who has named them as distant relatives. The client wishes them to take up residence as soon as it's convenient.
Of course, there are conditions. The client has chosen to remain anonymous, and the manor has been unoccupied for almost twenty years.
Thus Abigail Foster comes to Pembrooke Park in all it's hidden-away loveliness. The villagers and house servants are half-afraid of the place, and unsettling stories circulate about the last tenants.
I read this book aloud as a "bed time" story for ten days or so. It was wonderfully engaging. Novels about the Regency period rarely keep my attention.
Thankfully, the information about Abigail's clothing and hairstyles was mixed in with a mystery, and she had character of her own.
She is just persistent enough to keep searching for answers to her questions, and just timid enough that you sympathize with her.
And it was great fun to watch her interact with various new friends. Leah Chapman- the steward's daughter, who is more reserved than Abigail herself.
William Chapman- the local curate who possesses a heart for helping in every circumstance.
Eliza and Mrs. Hayes- two women whose pasts and futures are tied up in Pembrooke Park.
The Morgan family- proud of their prestige.
I have only one complaint about a certain part of the ending. One character's fate troubled me. I think there must have been a way to redeem that in some way, big or small. That added a sour note to the story's otherwise sweet resolution for me.
The rest of it- the manor and it's elegance, the tender affection blooming between certain folks- it all came together very well.
I'll be keeping an eye out for more Julie Klassen novels, beginning tonight at my library. :-)
Thank you Bethany House for my review copy!
Julie Klassen loves all things Jane—
Jane Eyre
and Jane Austen. A graduate of the University of Illinois, Julie worked in publishing for sixteen years and now writes full time. Three of her books,
The Silent Governess
,
The Girl in the Gatehouse
, and
The Maid of Fairbourne Hall
, have won the Christy Award for Historical Romance. She has also won the Midwest Book Award, Christian Retailing's BEST Award, and has been a finalist in the Romance Writers of America's RITA Awards, Minnesota Book Awards, and ACFW's Carol Awards. She blogs at
http://www.inspiredbylifeandfiction.com
.
Julie and her husband have two sons and live in a suburb of St. Paul, Minnesota.