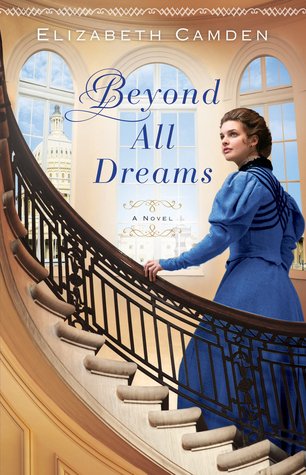 One Sentence Review: An intense tale of friendship, loyalty and love.
Miss Anna O'Brien holds a coveted position in the Library of Congress. She's reserved, respectable, and unmarried- the picture of a librarian.
Caring for the Library's map collection is more than enough work to fill her days, and the information all around her is a wellspring of delights for her active mind.
Congressman Luke Callahan seems to think that librarians exist to be secretaries for people like himself. When he decides that Anna will assist his latest project, he never expected to discover an intelligent co-laborer.
Now- don't be hasty. This isn't a mere Rom Com, where to people who Cannot. Stand. Each. Other. soon fall deeply in love... no, there's more to Luke and Anna than that.
As the two work together, they realize a common bond. Both have professional goals that require devotion, and neither came from a stable or safe home.
Their similar memories and driven personalities leave them each with a choice- will they view their pasts through eyes of redemption, or continue to resent what was forced upon them?
And will they be able to find individual healing- separate from each other?
She cannot be his source of peace, he cannot be her future.
These two characters- sometimes making terrible choices, sometimes choosing well, always growing- are the heart of the novel.
Yet that is not all.
There is also mystery that Anna is determined to solve, and a glimpse into the Congressional politics of the late 1800's. And there are plenty of luscious library descriptions... Anna treasures the books and maps entrusted to her hands, and we can see why.
Thank you Elizabeth Camden, Bethany House, and Litfuse for my review copy.