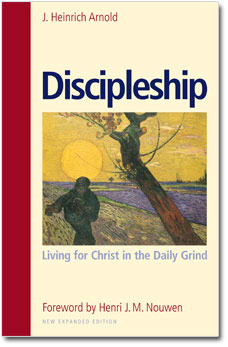 If somebody asked me what this book is, I'd have a short answer.
It's a collection of writings from a man who wanted to follow his Risen Lord- plainly, simply, and always.
The meditations and conversations preserved here all germinate from one seed- the desire to be conformed to the pattern of Christ.
He wanted to seek all things in God, to trust God for everything, to place everything in God's hands, and to fit his will to God's ways.
As Henri Nouwen says in the introduction, this book is demanding. The words of Jesus have stood the test of time because they are the most demanding words every spoken- Come to Me, Follow Me, Take up your cross with Me- and also the most comforting- I will give you rest, I will never leave you, here is my Body broken for you.
This book reminds us of that paradox- being a disciple is a call to lay down your life, and a call to stand up and live all at the same time.
Here are some quotes to give you a taste of his writing~
"God created heaven, earth, and all the constellations of the universe. He also created something else, something very mysterious: the human spirit. God created this spirit and placed it in us because He wanted to live in us."
"The body is the soul made visible..."
"There is a special love between two married people, and a special joy when they are near one another. Because they love one another quite specifically, they are faithful to one another and keep their relationship pure."
"Desecration of any sort is a sin. If I abuse a human being by treating him as a thing, I violate his dignity as an image of God."
"Children experience things in a more real and spiritual way than we expect. Reverence for the spirit that moves between parent and child is the basic element of a true family life."
"It is not enough to seek peace for ourselves, for our own souls. We must seek it for the whole body, and ultimately for the whole creation."
"God calls us again and again to come to Him with our trespasses and our need, and we can always turn trustingly to Him no matter the circumstances."
"He is much greater than man, and His love is much greater than man's. Do not live in fear. Look down across the valley and towards the mountains and think of the great God who created all things and who has you in His hand."
I see Discipleship as a book that I will return to, perhaps selecting a chapter by topic- Family, Suffering, and Unity among others.
I thank Plough Publishing and Handlebar Media for my review copy.