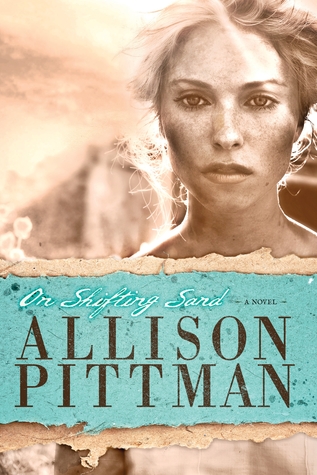 The afternoon that I began reading this book, my town received its first genuine spring rain- cool, sweet, persistent.
The noise of falling water made a strange counterpoint to the scenes I was imagining as I read.
The Oklahoma Dustbowl- a world without rain, where the sky darkens with flying sand and grit filters through every sheltering wall.
That is Nola's world when this story begins. She is a thirsty woman living in a parched place.
The earth doesn't seem to produce life here- instead it chokes it out, sweeping across the plain and suffocating everything in its path.
If you read the plot summary, you saw that into this shifting land comes a stranger. He's a friend of Nola's husband, a drifter named Jim.
Stated baldly, Jim and Nola have an affair.
Now, I'm guessing there's going to be two reader reactions. One is "I can't read that. Adultery? I don't want that kind of story. It's not Christian."
Reaction two is "I won't read that- Christian fiction can't possibly handle that realistically and gently."
Let me tell you, Nola's story is complicated. She's impossible to figure out, and I think that's why some reviewers aren't "liking" her.
She had a hard childhood, ruled by a suspicious and dominating father and her Half-Breed Indian mother dying early.
She's married to a man of sterling kindness and integrity- a preacher none the less.
She's surrounded by a church family, but she is truly a loner.
Her children are deeply loved, but sometimes she's scared of their pure affection.
She's the shamed girl seen as sinner by her father, she's the beloved bride of a man so decent she feels undeserving, she's trapped in a situation she can't redeem, and sometimes it seems she's the jailer to her own prison. She's all of these and more.
When she finally encounters Jim Brace, and takes the steps that bring her to him, she isn't even sure why she does it. And neither are we, the readers.
That's part of why she felt so real.
Maybe, like St. Augustine hinted, we really do look at ourselves from the back. Maybe all our motives are so tangled with fears and desires that only God can cut them apart. Maybe we really can't face ourselves.
Let's shoot straight here- infidelity is ugly. And yet... isn't that me to the core? An infidel?
Perhaps not I'm transgressing bodily in a marriage, but I'm as faithless as Nola is. I'm unfaithful to my God and I'm forgetful of what He has made me.
I trade in His living water for cracked cisterns of my own shaping. Considering the whole counsel of Scripture, I think the wasting-away Denola Merrill is a perfect canvas on which to paint a vision of radical Grace. And that's what Allison Pittman has done.
So read this book to take you back to a period in history that I do not want to ever live through.
And read it to take you inside a woman who doesn't understand herself, and who realizes that restoration and cleansing must come from Outside and Above.
I thank Tyndale House Publishers for my review copy.