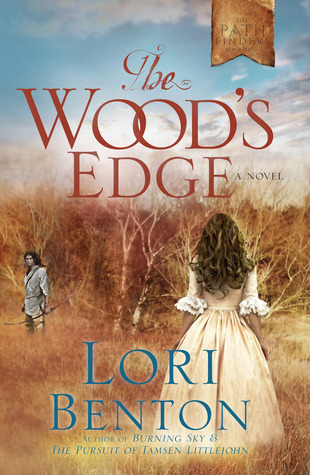 So. What do I have to say about The Woods Edge?
Simply this- this story is a world in and of itself.
Turn the first page and prepare to disappear within.
There are so many characters to meet and eventually to love.
Lori Benton crafted all her fictional people- men and women, youthful and mature, Indian and English- with complex emotions and nuanced perspectives. Some of the most broken characters become the spiritual giants, being forgiven and transformed. Some characters become warped and embittered, choosing to wreak destruction on each other at least for a time.
The spiritual elements come through this story in a vibrant way, with each faith journey belonging specifically to the character as an individual. I won't forget the word-picture one man painted, saying that the Gospel covered him with the red blanket of Christ's goodness.
The story is panoramic and personal all at once.
We get to witness things that happen in Indian villages and in small colonial towns and over the sea in England and Wales- and all those events affect and shape the same people.
The wide angle view is American history leading up to the War of Independence.
The closer view is a portrait of a family raising a stolen son, and the havoc and grace they all experience because of their choices.
Lydia became dear to me early on. At first, she's an outside witness to the main story.
Lydia is a young girl with an interest in healing, and when wounded Major Aubrey comes to her family home, she pays careful attention. She comes to adore the Major with the devotion of a child.
While the Major's wife struggles with terrifying memories, Lydia helps look after the Aubrey children- William and Anna Catherine.
Skillfully rendering the passage of time, the author moves us to Anna Catherine's youth.
This girl became my second favorite female character. Anna Catherine is open-hearted, and quick to be a friend. That's how she comes to know an Indian boy, who will grow up alongside her over several years. Without ever intending it, Two Hawks takes root in Anna's heart and she in his, and somehow they help each other grow.
Behind all of this story is the interesting question of Nature vs. Nurture. Twin boys, raised so differently from each other... would they be anything alike? Could they share the same values and love the same family?
The Woods Edge. Read this book to be taken away into a totally different time and place.
Read it for the adventure and the love stories. (Yep. There's a couple heart-breaking love stories...)
Read it for the courage that you'll see, and for the fears that you'll recognize.
Read it for the writing- it's like watching 383 pages worth of movie unfold in my head.
I could see Anna in the sunlit berry patch.
I could see Lydia in the sickroom with Major Aubrey.
I could see Two Hawks deep in the forest, wrestling with his purpose and identity, forever shadowed by his missing brother.
The Woods Edge is an extremely satisfying read, but it will leave you with two questions.
A. How on earth is Lori going to bring the larger plots to resolution in book two "A Flight of Arrows"?
B. How does she expect us to wait for that until 2016? ;)
Well, I'm going to post this review and then get ready to loan my copy to an aunt, who already wishes to borrow it. I'll just have to draw up a lending contract, because I want my book back when she's finished.
And avid readers can't be trusted on matters like that.
Thank you to the Waterbrook Publishers and author Lori Benton for providing me with an early review copy.
Lori Benton was born and raised east of the Appalachian Mountains, surrounded by early American and family history going back to the 1600s. Her novels transport readers to the 18th century, where she brings to life the Colonial and early Federal periods of American history, creating a melting pot of characters drawn from both sides of a turbulent and shifting frontier, brought together in the bonds of God's transforming grace.
When she isn't writing, reading, or researching 18th century history, Lori enjoys exploring the mountains with her husband.