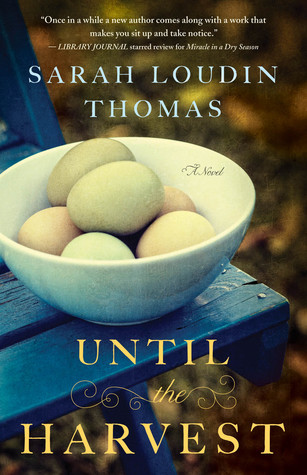 Sarah Loudin Thomas's second novel has all the charm and truth that we encountered in her first, while providing a fresh plot that ripens like a Summer garden- sure and slow.
The combination of winsome storytelling that reveals almost magical moments and glimmers of God's glory led me to christen Miracle in a Dry Season "an Appalachian fairy tale." Until the Harvest carries on this tradition.
Assuming you've read Miracle, you'll be so happy to meet Perla and Emily and Casewell again. If this is your first book by Sarah, rest assured that it stands on its own. You'll meet the earlier cast through Perla's son, Henry Phillips, our main character.
On New Year's Eve, 1975, Henry is a college student at West Virginia University, studying agriculture. He's a beloved son to Casewell and Perla, and he's an upstanding young citizen in their community. If he was asked what his coming year might bring, he wouldn't have included a sudden death that derails his world. He wouldn't have seen himself taking an opportunity that's more like a hand grenade- safe for a moment, then explosive.
He wouldn't have pictured the peculiar Hoffman sisters, Mayfair and Margaret, becoming such a part of his days.
In short, Henry never imagined that 1976 would be such a time of grief and trouble, and he never expected such pure rays of light to come through the dark. You may just love this Phillips boy by the time his story ends.
And we also get the Hoffman girls' stories too. Mayfair, age twelve. She has frail health and a sensitive soul- and both are guarded by protective Margaret. Because I have a sister, I appreciate sister relationships in literature. This one is a keeper.
And Margaret by herself is a character worth knowing as well. It's her dreams that made me love her. She has lovely, wholesome wishes for her future... they just always seem out of reach.
Thankfully, Henry and Mayfair and Margaret have Emily Phillips....but you'll just have to read the book if you want to find out all the surprises this tale has in store. It is a lot like a fairy tale, with a '68 Barracuda instead of a charging steed, a little gray house with daffodils instead of a castle, and an elderly farmer's wife instead of a good fairy.
Until the Harvest will feed your heart like a slice of Perla's wedding cake, and memory of its sweetness will linger in your mind.
I thank Bethany House and Sarah Loudin Thomas for the chance to review this book.