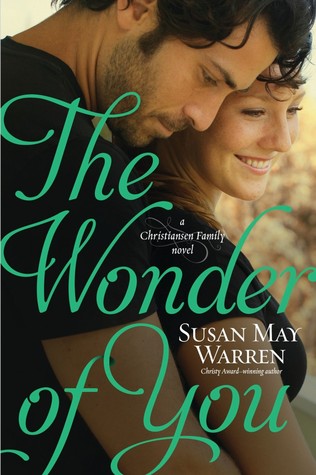 So, we've been loving the Christiansen family for the last two years now.
We've followed their adventures, gotten misty over their heartaches, and delighted in their personal renewals.
Darek, Eden, Grace, and Casper have revealed their secrets through the pages.
But little Amelia, the baby of the family- she's stayed a mystery.
Oh sure, we saw her in the background- camera around her neck, lending a hand at the family's resort, and encouraging everyone else to expect wonderful things.

Now, this is Amelia's turn to tell her story.
She's not sure whether it was a reach for independence or a desire to make her own mark in the world, but she went further away from home than any of her siblings. She went all the way to Prague. And then she came back.
What happened in the middle is unknown to most of her clan. She only shared bits and pieces. They know that her heart got broken- some guy named Roark. And they know that Roark came to Deep Haven, showed up at their door just as bold as you please.
And Amelia's brothers send him home- all the way back across The Pond. Good riddance, it's over.

Well, what if Roark and Amelia weren't as over as it seemed? What if he came back again- risking the wrath of the Christiansen men to win the lady's hand? As you can imagine with a set-up like that, there'd plenty of drama in Deep Haven. (There'd also be plenty of small town charm, as Roark tried to enter Amelia's world.)

The sub-plot is a continuation of Max and Grace's story, and I found it to be a worthy follow-up to their own "When I Fall in Love." If you've been wondering when/where/and how those two tie the knot, expect to laugh at the answer. And if you've been wondering how Max and Grace can make a life of love together while expecting a painful future, you'll be touched by their decisions.

I'm glad to have "The Wonder of You" on my shelf. I'll be returning to it as a comfort read when I need a pick-me-up some day.
It's hard to believe that our time in Deep Haven with a Christiansen tour guide is almost over. Owen's story is the last one left to tell, and I'm eager to hear it. In the meanwhile, open this book and find yourself at Evergreen Resort- where the food is delicious, the campfire is merry, and the door is open to many new friends.

I thank Tyndale Publishers for my review copy.