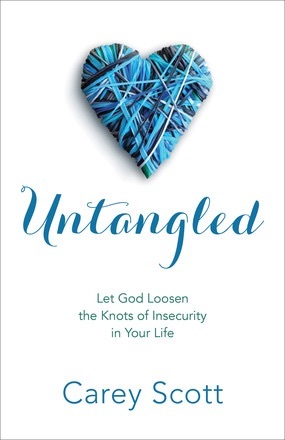 Every woman has a tangle or two in her life- a knot in her heart that keeps her from living fully free. Sometimes the knots are made of tiny threads, and sometimes they seem to be chains forged from steel.
Some knots can be untied quickly, a words of guidance or encouragement amid a hard day will suffice.
The harder knots may require bolt-cutters: God's grace and much human wisdom.
Whatever knot is wrapped around your heart, whatever sort of tangle is cutting off your flow of life, Carey Scott believes that it can be undone.
Now, she doesn't have a five-step process for taking the scissors to your knots. And she doesn't pretend that we can change the past or remove all traces of its troubles. She has, however, seen what can happen when a woman decides to deal with her tangles. There can be remarkable, good change in her life.
Carey addresses some of the specific strings that can trip us up, drawing from her own experiences.
We can get tangled in all manner of expectations. We can get tied up in performance. We can get tied up in presenting our appearance.
Oh, how we need a sisterly guide to help us find ourselves safe in Jesus, and to encourage us to share our hearts with others. You may find moments of such guidance in "Untangled."
I thank Revell Publishing for providing me with a review copy.