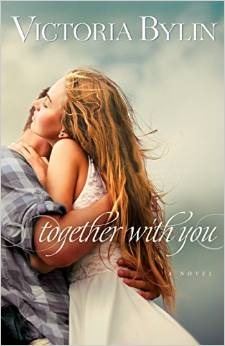 "Together with You" is a strong story that hits all the right notes of hope and reality.
The hope comes when the characters realize that they can build a very good life, even when their reality will include hard choices and perpetual struggles.
Carly Jo comes from a tight-knit Kentucky community, and her beloved father is the town's preacher-man. From him, she learned the truths of her faith, and he modeled care and kindness and fidelity. It's no wonder that she would end up working with children.
It is a wonder that all the steps and stops of her life would take her so far from her roots. We meet her in California, living in a doctors home, as a nanny/caregiver for his motherless daughter.
This story may remind you of "The Sound of Music" in all the right ways.
There's a serious man, a decent man, who's lost touch with his children's hearts.
There's a handful of kids who need both guidance *and* some good times with their dad.
And there's a gentle woman, strong enough in the strength that comes from God to give her all in the name of healing a family.
This is a romance, most definitely, but the author remembers a critical point- that there are many kinds of love in the world- and she weaves them all into her story. There are moments of innocent humor, and moments of familial goodness, and moments of tenderness between two people who are better together than apart.
I'll be on the lookout for another book by Victoria Bylin. I thank Bethany House for providing me with a review copy.