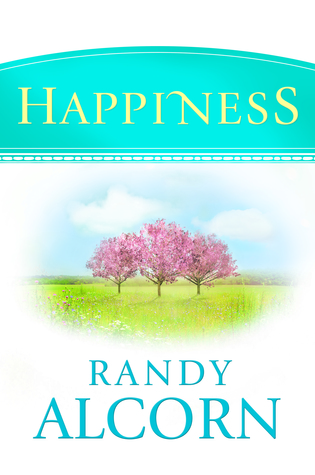 Pastor Alcorn isn't content just to tell us to be happy. He insists on searching Scripture and showing us the Gospel-centered reasons for a happy life.
And if you trust him for a few hundred pages, he'll convince you that there's a lot of happiness to be found, first in God Himself, then in the gifts He gives us, and in our response to God and His world.
I really enjoyed reading this book. (Frankly, if a book called "Happiness" wasn't a pleasure to read, wouldn't that be a major problem right there?) Randy clearly studied his subject, because this book was peppered with quotes from philosophers and scientists and preachers and artists and songwriters, all of them engaging with "happiness."
I agree with him that for Christians, happiness has become one of those unspiritual concepts. We don't want to seem like we're obsessed with personal satisfaction or self-gratification, so we shun happiness in favor of a joyful holiness. And joyful holiness is wonderful, but Randy argues that we've devalued the concept of simple, easily recognized human happiness to our own detriment.
For Randy, happiness (along with joy and gratitude and contentedness and peace, etc. etc.) rounds out the wholesome life.
In this book, Randy devotes many pages to studying the most precise meanings of various words in Scripture. There's a reason for this. Often our translation of a word can give it a whole new meaning, sometimes subtle, sometimes glaring. There are a lot of really strong happy words in Scripture, and maybe you've never realized that before. If it's become easy to skim over phrases like "blessed," and "rejoicing," then spend some time with these sections, being startled by the bold, brave, bright happiness that God is fond of evoking.
All in all, this is a really comprehensive look at happiness: how we can have more of it now, why we can be assured of it for all eternity, and why we should celebrate the fact that we want happiness to begin with.
Also, as you're sitting there holding a thick book with "Happiness" emblazoned on the cover, you may have somebody come up and ask you what you're reading. Won't it knock their socks off when you tell them? Now that's a way to start a Christ-conversation, with happiness.
I thank Tyndale Publishers for providing me with a copy of this book in exchange for my opinion.