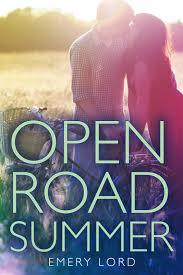 Yes, this is a YA book. It's about best friends and growing up, and the setting is a summer road-trip. It deals with some hard issues, grounding them in a rollicking tale that I didn't want to put down. I would have adored this book at 14, and I greatly adored it now.
Our heroine, Reagan, is one tough-talking gal. She appreciates the artificial height provided by a good pair of heels and she'll stare down anybody who sasses her or gives trouble to a friend. Reagan knows her way in and out of loud parties, bad relationships, the police station, and some therapy.
She may be "New Reagan" these days, but "Old Reagan" still hijacks her brain sometimes.
I loved her "voice" as our narrator. She's hard nosed and hot headed, and yet her brutal honesty won't let her hide from any truth for long. She's exactly what her friend Dee needs this summer. Becoming a country music star before she even graduated gave Dee a world of opportunities, and it opened her up to the media wolves. Dee is the perfect complement to Reagan- she's almost unfailingly sweet with an old-fashioned sense of style and a desire to be a good role model.
Enter a drummed-up scandal against Dee's tween-friendly reputation, and a publicity stunt to fix it in the form of Matt Finch, a fellow young musician whose star rose just as fast as Dee's.
Honestly, this is a fine read. It's an edge-of-your-seat YA romance that says something important to young girls about finding their own strength and it retains a delightful innocence and positivity.
I have to commend Emery Lord. She's told a delicious tale without just the right touches of restraint, making her romance both sweet and strong.
Final Note: Other reviewers commented on Reagan's particular bent for judging every other female she meets. I have some thoughts on that- first, the author did not intend the reader to approve of that behavior- it's merely another (unpleasant) facet of Reagan's character. Indeed, we readers can see that Reagan is probably a little insecure. And if she were a real person, I'm guessing she'd grow out of it for one good reason- she knew when she was being unfair and unkind. As long as you're honest enough to see your flaw, you have a chance at correcting it. Reagan's only 17, and while her Open Road Summer finds her on the road to maturity, she doesn't have to arrive before we can love her.