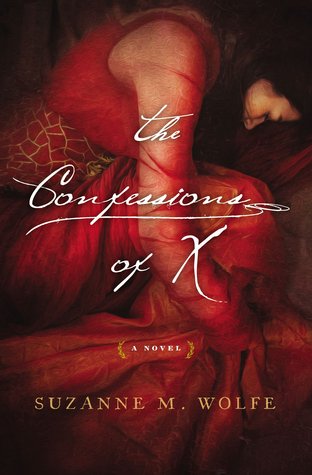 Deeply engrossing and terribly sad. That's what I would say about "The Confessions of X."
It's a pretty sure bet that if you've ever read anything about Christianity, you've encountered some words from Augustine. I had never known this, but apparently there was another woman in Augustine's life beyond his prayerful mother Monica. This woman is referenced in his work but never referred to by name, and one can only imagine who she was and what she must have meant to him.
This woman was lost in history, and Suzanne Wolfe decided to find her. In this novel she marries fact and imagination, giving us a story that show's Augustine's humanity and restores his beloved's identity.
The tale is told in her voice, as she looks back on her life, and that sharpens the telling. Augustine and this woman knew a love that was willing to choose their union against all advice, and she gave love that was willing to sever their union for the sake of the beloved.
We know her ending before we even begin: Augustine and she do not grow old together.
As our narrator says, when they were young they loved, and they pretended that the future- when there would have to be a choice-wasn't coming. And then it came. At 30, Augustine was not yet applying his mind and pen to Christian doctrines, but his brilliance was already marked by the powers that ruled his world. A man like him could rise high in the court, but not with an "unsuitable" concubine as a bride.
Her decision will make you pause. Is it possible to measure the rightness of her choice at all? Think- if Augustine had happily thumbed his nose at ambition and opportunity, and had lived a life of marital love and personal obscurity, then he and she and their children may have lived and died unknown and done both well. But the church would have been missing a strong influence, and who knows what that would have cost the world?
So read this book, if you care about fascinating women who ought to be known, or carefully crafted historical fiction or the flesh and blood that lived out church history. Read it for the vivid descriptions of emotions and environments. Read it for a chance to meet a woman who was created by her author to be a fitting match for the passion and wit of "Saint Augustine."
I thank Booklook for my review copy, provided in exchange for an honest opinion.