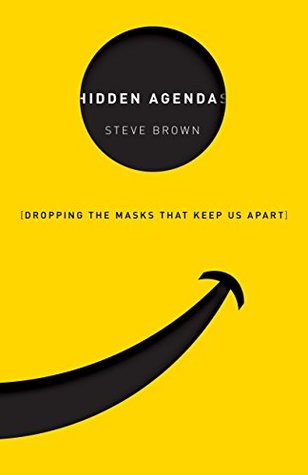 I wanted to read this book as soon as I saw the title: "Hidden Agendas: Dropping the Masks that Keep Us Apart." It's about time somebody convinced us to shuck off the obsession of maintaining an appearance and polishing an image and get down to the heart of what really matters.
Steve, writing in his usual style, as if the book is one long conversation punctuated by jokes, is asking us to get real. He thinks we should shock all the "uptight Christians and misinformed pagans" by speaking up about what a mess we are, and then speaking out about how good Jesus is.
That's the core of this book's message: tell the truth about yourself, and walk into the shadowy corners that you normally avoid. Then tell the greater truth about Jesus, the hard-to-believe-truth that his light has already gotten into all your dark places.
That's the good news that would set the world free.
I appreciate this book because each chapter builds the case for dropping the mask and exposing our real identities- we're the makers of mistakes, the bumbling fools, the confused and disturbed. We're also the utterly loved and fully redeemed children of God.
I thank New Growth and Litfuse Publicity for sending me a review copy.